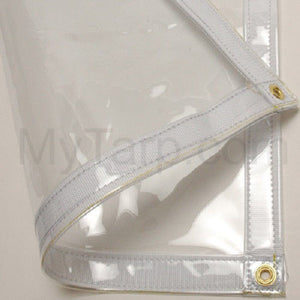 Sigman
8' x 20' Room Divider Curtain - 20 MIL Crystal Clear Flame Retardant Vinyl - Grommet Every 1 ft - Made in USA
Product Overview
Key Benefits
- Additional protection for office and hospital workers
- Reduce accidental contacts, contamination and spread
- Clear view for viewing and monitoring
- Grommet every 1 ft for easy hanging installation

Ideal for office room divider curtain, hospital room partition room divider curtain. Protect office and hospital workers by reducing contacts and providing a more private space. Crystal clear view allows viewing and monitoring from the other side of room divider curtain.

Specifications
- Application: Room Divider Curtain
- Material: Fire Retardant / Flame Retardant Crystal Clear 20 MIL Vinyl
- Grommet Every 1 ft on all 4 sides and corners
- Clear View
- Made in USA
Warnings
WARNING: This product contains chemicals known to the State of California to cause cancer and birth defects or other reproductive harm.
WARNING: Tarp size is cut size. Finished size is up to 3% - 5% smaller.
WARNING: In areas with very cold winter weathers, please use 30 MIL Clear Vinyl Tarps instead of 20 MIL Clear Vinyl Tarps because 30 MIL Clear Vinyl Tarps have better cold crack resistance.
WARNING: All clear tarps may have seams. Seams are heat sealed flat seams.
WARNING: For vertical applications only. Not recommended for horizontal applications such as roofs. Tarps cannot be load bearing. Any water, snow or ice must immediately run off.
Features
Protect office and hospital workers by creating more private space
Reduce accidental contacts, contamination and spread
Crystal Clear view for viewing and monitoring
Grommet every 1 ft for easy hanging installation
Fire Retardant / Flame retardant. Meet California Fire Marshal FR Standards.
| | |
| --- | --- |
| Size | 8' x 20' |
| Color | Clear |
| Thickness (MIL) | 20 |
| Tarp Fabric Weight | 18 oz. / sq. yd. |
| Grommet Spacing | 2 feet |
| Country of Origin | Made in USA |