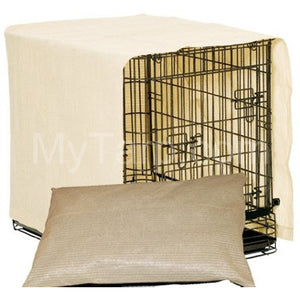 Coolaroo
Coolaroo Dog Crate Cover + Dog Pillow Combo - XX Large - Desert Sand Color
$32.80

MSRP

$64.99

Save $32.19 (49%)
Product Overview
Coolaroo Dog Crate Cover + Dog Pillow Combo - XX Large 48" x 29" Desert Sand Color. Coolaroo breathable dog crate cover provides comfort and style to your dog create. This dog crate cover fits most standardsized dog crates. Dog crate cover creates a peaceful, stress free environment at home or during travel. Dog can rest easy on a comfy pillow that is made from unique Coolaroo breathable fabric. Coolaroo Dog Crate Cover Features: Breathable knitted dog crate cover fabric provides optimum ventilation regulating temperature and reduces odor. 90% UV block provides maximum protection from harmful sun rays when used outdoors or during car rides. Dog crate cover is flea and mite resistant. Coolaroo dog crate cover is easy to clean and is stain resistant. WARNING: Dog crate is NOT included. This is cover and pillow for dog crate only. Coolaroo Dog Pillow Features: Polyfill dog pillow provides comfort against the cold metal or plastic flooring of dog crate. Water/moisture resistant construction resist stains and odors from accidents. Zippered opening makes it easy to increase or decrease dog pillow filling to customize your pet's comfort level.

Coolaroo Dog Crate Cover and Dog Pillow Size Chart
---
Item Number, Cover Size, Cover Dimensions L x W x H, Pillow Dimensions L x W x H, Color
432898, Small, 24" x 18" x 22", 24" x 17" x 6.5", Desert Sand
432904, Medium, 30" x 22" x 24", 30" x 21" x 6.5", Desert Sand
432911, Large, 36" x 24" x 27", 36" x 23" x 6.5", Desert Sand
432928, X-Large, 42" x 28" x 31", 42" x 26" x 6.5", Desert Sand
432935, XX-Large, 48" x 30" x 34", 48" x 29" x 6.5", Desert Sand
Warnings
WARNING: Dog crate is NOT included. This is cover and pillow for dog crate only.
Features
Coolaroo breathable dog crate cover provides comfort and style to your dog crate.
Dog crate cover fits most standardsized dog crates.
Dog crate cover creates a peaceful less-stress environment at home or during travel.
Polyfill dog pillow provides comfort against the cold metal or plastic flooring of dog crate.
Water/moisture resistant construction resist stains and odors from accidents.
| | |
| --- | --- |
| Color | Desert Sand |
| Country of Origin | Imported |
---