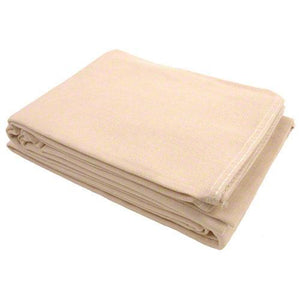 Sigman
Sigman 9' x 12' Canvas Drop Cloth 6 OZ
Product Overview
Sigman 9' x 12' 6 oz Canvas Drop Cloth. 6 oz utility grade is popular with painters light duty protection. Full panel drops are made from natural cotton canvas. Hems and seams are double stitched. Each drop cloth is shrink wrapped for easy handling. Canvas drop cloths are washable and reusable. Canvas Drop Cloth can be used for many applications. Most popular use is for painter's job site protection from dust and minor paint spray or drops. Protects floors and furnitures from paint drops and sprays. Fabric weight is 6 oz / sq. yard.
Warnings
WARNING: Cotton canvas drop cloth is not waterproof and will not stop paint from soaking through. To protect from paint soaking through and paint spills, please consider tarps or butyl drop cloths.
WARNING: Canvas drop cloth is not seamless. Drop cloth fabric is not garment grade, furniture grade, upholstery grade or photo background grade. No grommets installed.
WARNING: Size is cut size. Finished size is slightly smaller.
WARNING: Natural cotton canvas fabric will shrink 10 - 12% approximately when washed depending washing and drying cycles.
WARNING: Flammable. Cotton canvas will catch fire if exposed to flame, sparks, or high heat.
Features
6 oz Canvas Drop Cloth ideal for light painting projects and for trapping dust and debris
Natural off white or beige color. Not bleached.
Size: 9 ft x 12 ft
Quantity / Pack: 1
Reusable
Color: Greige. Color and texture is not guaranteed and may vary.
| | |
| --- | --- |
| Size | 9' x 12' |
| Color | Beige |
| Tarp Fabric Weight | 6 oz. / sq. yd. |
| Country of Origin | Imported |
---