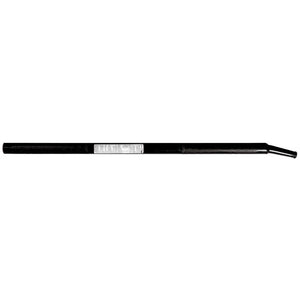 Kinedyne
Kinedyne Standard Winch Bar, Painted - 37030
Product Overview
Kinedyne Standard Winch Bar, Painted - 37030. Length: 35.0". Weight: 5.2 lbs., 2.3 kgs. Color: Standard Painted Black. Made of Carbon-Steel. Non-Slip Handle. Knurled tip for easy operation. WARNING: Not to be used as a cheater bar to tension load binders.
Warnings
WARNING: When tightening or loosening winches, always maintain a firm grip on the winch bar. Never release a winch bar without checking the pawl to ensure that it is fully engaged between ratchet teeth. Releasing a winch bar without the pawl being properly engaged can cause serious injury to the user or bystanders. The use of a slip resistant handle winch bar, specifically designed to tighten or loosen winches, is recommended. Kinedyne winch bars shall be used to tension and release tie-down assemblies. Cheater Bars or extenders shall not be used with the winch bars. User shall stand clear of the winch bar handle during operation of the winch bar in case the winch bar slips. The tip of the winch bar shall be inserted through both holes in the end cap to prevent the winch bar from slipping out and overloading the tip and/or end cap. Winches shall not be loaded in excess of their working load limit. Winches shall not be used as pulling or lifting devices. A minimum of 12" of webbing shall be inserted through the slot, and a minimum of two (2) wraps shall be on the winch mandrel.
CAUTION: Excessive wraps of webbing on the mandrel will reduce the working load limit of the winch.
PORTABLE WINCH WARNING: Set screws on portable winches are designed to position the winch while the tie-down assembly is being tightened. They shall only be snug tight. Overtightening of screws may cause the bracket to bend, weakening the winch and causing it to fail. Portable winches shall be removed and stored when not in use.
Features
Kinedyne Standard Winch Bar, Painted
Made of Carbon-Steel
Non-Slip Handle
Knurled tip for easy operation.
Color: Black
| | |
| --- | --- |
| Color | Black |
| Country of Origin | Imported |