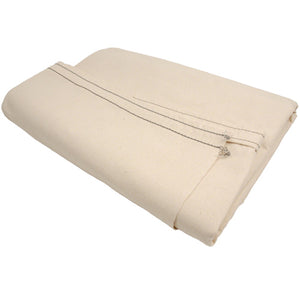 Sigman
Sigman 12' x 20' 10 OZ Canvas Drop Cloth - Made in USA
Product Overview
Sigamn 12' x 20' 10 OZ Heavy Duty Canvas Drop Cloth - Made in USA is popular with painters and construction jobs. This heavy duty canvas drop cloth is made in USA and can be used for many applications. Most popular use is for painter's drop cloths. Protects floors and furniture from paint spills or machine dust covers. Canvas Fabric: Untreated natural cotton canvas. Fabric Weight: 10 oz / sq. yard. Color is natural off white color (not bleached white). No grommets installed. Popular for painters and contractors for job site protection.
Warnings
WARNING: Natural canvas drop cloth is not waterproof and will not stop paint from soaking through. To protect from paint soaking through and paint spills, please consider tarps or butyl drop cloths.
WARNING: Canvas drop cloth is not seamless. Drop cloth fabric is not garment grade, furniture grade, upholstery grade or photo background grade.
WARNING: Size is cut size. Finished size is slightly smaller.
WARNING: Natural cotton canvas fabric will shrink 10 - 12% approximately when washed depending washing and drying cycles.
WARNING: Flammable. Cotton canvas will catch fire if exposed to flame, sparks, or high heat.
Features
Made in USA. Heavy weight 10 oz cotton canvas fabric.
Natural off white color. Not bleached and Undyed.
Popular for painters and contractors for job site protection
No grommets installed
Custom size drop cloth available.
| | |
| --- | --- |
| Size | 12' x 20' |
| Color | Beige |
| Tarp Fabric Weight | 10 oz. / sq. yd. |
| Grommet Spacing | None feet |
| Country of Origin | Made in USA |