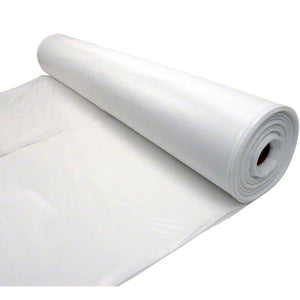 Husky
Husky 20' x 100' 10 MIL White Plastic Sheeting
Product Overview
Husky 20' x 100' 10 MIL White Plastic Sheeting. Polyethylene sheet and film are used for many different construction and DIY projects. Some common applications for this product include using it as a vapor barrier for concrete or between drywall and insulation. They also can be used to cover a crawl space or under wood floors. Plastic sheeting is waterproof. Widely used for building site protection and moisture control.

Specifications:
- Brand: Husky
- Thickness: 10 MIL Plastic Sheeting.
- Color: White.
- Width: 20 ft.
- Roll Length: 100 ft.
- Country of Origin: Made in USA.
- Manufacturer Part Number: Husky CF1020W

When use tape for 10 MIL plastic sheeting, please use heavy duty plastic sheeting tape 9 MIL or thicker for best results.

10 MIL plastic sheeting is available in Black, White, Clear (Gray), Yellow. The 10 MIL white plastic sheeting's color is white, like white printer paper. White plastic sheeting has less or none of recycled polymer material.
Warnings
WARNING: This plastic sheeting is not UV resistance treated and not recommended as outdoor covers.
WARNING: Opacity NOT guaranteed and vary by batch according to manufacturer.
Features
Waterproof. Made in USA.
Thickness: 10 MIL. Width: 20 ft. Roll Length: 100 ft. Color: White.
Ideal for job site protection and enclosure, moisture barriers, under or above concrete moisture barriers.
Crawl space moisture vapor barrier in crawl space encapsulation projects
Popular for building job site protection and moisture control.
Manufacturer Part Number: Husky CF1020W
| | |
| --- | --- |
| Size | 20' x 100' |
| Color | White |
| Thickness (MIL) | 10 |
| Country of Origin | Made in USA |