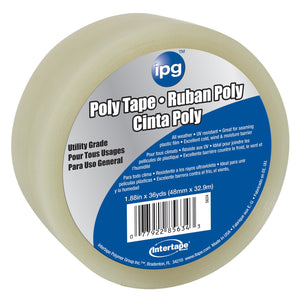 IPG
IPG 2" x 36 Yards Plastic Sheeting Tape - Poly Repair Tape - Clear
Product Overview
DESCRIPTION
Ideal as plastic sheeting tape for construction, remodeling and environmental enclosures. Heavy-duty polyethylene coated cloth tape with an aggressive synthetic rubber pressure-sensitive adhesive. Excellent for low temperature bonding. The permanently tacky adhesive adheres well to most surfaces under a wide range of conditions. Moisture resistant. Conformable and maintains a tight water seal in all weather conditions.

PRODUCT APPLICATIONS
For temporary repair or splicing of polyethylene sheeting, home, office, recreational repairs and surface protection. Wrapping & sealing, binding & bundling, and general maintenance.

TECHNICAL DATA
The following data are nominal values based on PSTC, ASTM and other standard tests. The data should not be considered as specifications.

Backing: 5.5 mil PE film
Adhesive Synthetic: Rubber/Resin
Tensile Strength (lbs/in of width) 22 (96 N/25mm)
Elongation (% at break): 100
Initial Adhesion to Steel (oz/in of width) (20 min @ RT): 70 (19 N/25mm)
Adhesion to Backing (oz/in of width) (20 min @ RT): 35 (9.6 N/25mm)
Shear Adhesion (hours) (2lb/in² of width): 76
Total Thickness (mils): 9.0 (0.23mm)
Color: Clear
Size: 1.88 in x 36 yds

COUNTRY OF ORIGIN: Made in USA
Features
For temporary repair or splicing of polyethylene sheeting
Thickness: 9 MIL. Width: 2 in. Roll Length: 36 Yard. Color: Clear.
Ideal for construction site plastic poly sheeting enclosure sealing and splicing.
Moisture resistant. Tight water seal in all weather conditions.
Excellent for low temperature bonding. Stick well to most surfaces.
| | |
| --- | --- |
| Size | 2" x 108' |
| Color | Clear |
| Thickness (MIL) | 9 |
| Country of Origin | Made in USA |