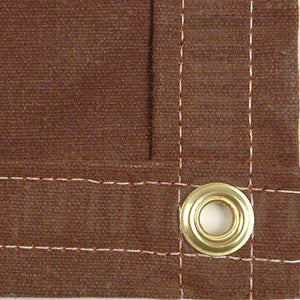 Sigman
Sigman 12' x 25' Heavy Duty Cotton Canvas Tarp 18 OZ - Brown - Made in USA
Product Overview
Sigman 12' x 25' Heavy Duty Cotton Canvas Tarp 18 OZ - Brown - Made in USA - Brand New. Strong and breathable cotton canvas. Fabric weight: Heavy duty 12 oz weight before treatment and 18 oz after treatment. Water and mildew resistant, Made from wax finish water resistant natural cotton canvas fabric. Triple thick hems for durability, All seams and hems are double stitched. Wide range of colors and sizes available. Custom canvas tarps available upon request. Grommets approximately every 2 feet. Cotton canvas tarps protect equipment, construction supplies and from dust and weather while reducing condensation. Canvas tarps are popular for outdoor protection of construction equipment, materials and supplies, farm equipment, firewood and lumber.
Warnings
Canvas tarp sizes listed are cut size. The finished size are approximately 3% or 6 inches smaller due to seams and hems
Not recommended for canopy roofs, outdoor walls, replacement canopy top, canopy sidewall, tent roof or tent sidewall, building structure roof. For patio roof, patio sidewall, canopy replacement tarps, canopy replacement top and sidewalls, please consider Sigman high tear strength 18 oz Vinyl Coated Polyester Tarps.
Not suitable as car or boat covers that directly touches car or boat exteriors or interior because wax and dye in canvas tarps may rub off and stain car or boat exteriors. For boat or car covers, please consider Sigman Polyester Canvas Tarps.
Cotton canvas tarp may intially have an odor.
Cotton canvas tarps are non-trailerable. For trailer tarps, please use Sigman 18 oz Coated Vinyl Tarps.
Features
Breathable Water Resistant Treated Cotton Canvas Fabric. Reduces Water Condensation.
Triple thick hems for durability.
Seams and hems are double stitched outdoor UV rated polyester threads.
Fabric Weight: 12 oz / sq yard before treatment and 18 oz / sq yard after treatment.
Grommet Spacing: Brass grommet every 2 ft approximately
| | |
| --- | --- |
| Size | 12' x 25' |
| Color | Brown |
| Thickness (MIL) | N/A |
| Tarp Fabric Weight | 18 oz. / sq. yd. |
| Grommet Spacing | 2 feet |
| Country of Origin | Made in USA |