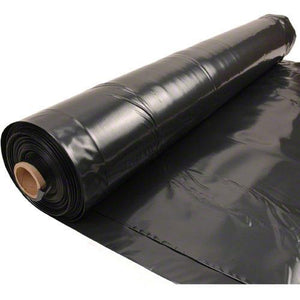 Film-Gard
Film-Gard 10' x 100' 6 MIL Black Plastic Sheeting
Product Overview
Film-Gard 10' x 100' 6 MIL Black Plastic Sheeting. Polyethylene sheet and film are used for many different construction and DIY projects. Some common applications for this product include using it as a vapor barrier for concrete or between drywall and insulation. They also can be used to cover a crawl space or under wood floors. Waterproof. Widely used for building site protection and moisture control.

Specifications:

- Color: Black.
- Thickness: 6 MIL.
- Width: 10 ft.
- Roll Length: 100 ft.
- Opacity: NOT guaranteed and vary by batch per manufacturer.
- Country of Origin: Made in USA.
- Manufacturer Part Number: Film-Gard B0610
Warnings
WARNING: This plastic sheeting is not UV resistance treated and not recommended as outdoor covers.
WARNING: Opacity NOT guaranteed and may vary by batch according to manufacturer.
Features
Waterproof. Made in USA.
Thickness: 6 MIL. Width: 10 ft. Roll Length: 100 ft. Color: Black.
Ideal for job site protection and enclosure, moisture barriers.
Crawl space moisture vapor barrier in crawl space encapsulation projects
Popular for building job site protection and moisture control.
| | |
| --- | --- |
| Size | 10' x 100' |
| Color | Black |
| Thickness (MIL) | 6 |
| Country of Origin | Made in USA |