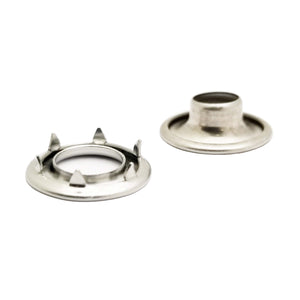 Stimpson
Stainless Steel Spur Grommets - Rolled Rim Grommets with Spur Washers - 304 Stainless Steel
Product Overview
Stainless Steel Spur Grommets - Rolled Rim Grommets with Spur Washers Washers (Grommet / Washer Pairs). Marine Grade Stainless Steel (304). Available Sizes: Size 00, 0, 1, 2, 3, 4. Pack Size: 24-Pair Pack, 144-Pair Pack. Stainless steel grommets are strong and aesthetically appealing. Widely used for corrosion resistant applications or when look of grommets are important. Stainless steel grommets are also widely used on curtains, tarps, covers in medical fields.

Specifications
- Grommet Material: Solid 304 Stainless Steel
- Grommet Style: US Stimpson Rolled Rim Grommets with Spur Washers
- Sizes Available: 00, 0, 1, 2, 3, 4 (From Smallest to Largest)
- Quantity / Pack: 24 Pairs or 144 Pairs (1 Gross)

Grommet Size Chart:
* Size 0 - Hole size after setting 9/32", Flange Diameter .670", Length Under Flange .175", Metal Thickness 0.016"
* Size 1 - Hole size after setting 13/32", Flange Diameter .790", Length Under Flange .205", Metal Thickness 0.016"
* Size 2 - Hole size after setting 7/16", Flange Diameter .890", Length Under Flange .255", Metal Thickness 0.018"
* Size 3 - Hole size after setting 15/32", Flange Diameter .970", Length Under Flange .255", Metal Thickness 0.020"
* Size 4 - Hole size after setting 9/16", Flange Diameter 1.120", Length Under Flange .320", Metal Thickness 0.020
Warnings
Stainless steel grommet is much harder material than brass or aluminum grommets. Please use grommet tools specifically designed for Stainless Steel Grommets.
Compatible with US Stimpson style stainless steel spur grommets and tools. Check with your grommet tool manufacturer for compatibility.
Features
Material: Marine Grade 304 Stainless Steel
Grommet Type: Stainless Steel Spur Metal Grommets - Roll Rim Grommets with Spur Washers (Grommet and Washer Pairs)
Quantity / Pack: Available in 1 Gross (144 pairs) or 24 Pairs
Grommet Size Available: 0, 1, 2, 3, 4
Marine Grade. Strong and aesthetically appealing.
| | |
| --- | --- |
| Color | Stainless Steel (304) |
| Country of Origin | Imported |