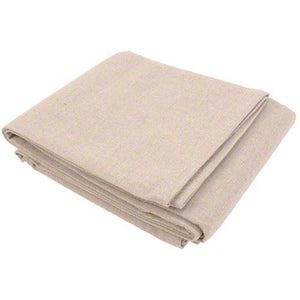 Sigman
Sigman 9' x 12' Canvas Drop Cloth with Poly Backing
Product Overview
Sigman 9' x 12' Canvas Drop Cloth with Poly Backing is natural cotton canvas drop cloth with a leak-proof poly backing which prevents paint from leaking through. Have you ever had a paint bucket spill or paint soaking through your canvas drop cloths? You said to yourself I wish I put a layer of plastic drop cloth beneath my canvas drop cloth. With poly backing canvas drop cloth, there is no need to put two layers of drop cloths because poly backing canvas drop cloth has two layers already. The top layer is natural cotton canvas and bottom layer is poly. Thus, paint do not leak soak through during a spill.
Warnings
WARNING: Not machine washable. Drop cloth has no grommets and may have seams.
WARNING: Drop cloth fabric is not garment grade, furniture grade, upholstery grade or photo background grade. No grommets installed.
WARNING: Size is cut size. Finished size is slightly smaller.
This is construction painters drop cloth. Its fabric is neither garment grade nor art canvas grade. For garment grade canvas, please visit your local garment fabric stores.
WARNING: Flammable. Cotton canvas will catch fire if exposed to flame, sparks, or high heat.
Features
Absorbent canvas layer and leak proof poly layer
Natural off white or beige color. Not bleached.
Size: 9 ft x 12 ft
Quantity / Pack: 1
Reusable
Color: Greige. Color and texture is not guaranteed and may vary.
| | |
| --- | --- |
| Size | 9' x 12' |
| Color | Beige |
| Tarp Fabric Weight | 7 oz. / sq. yd. |
| Country of Origin | Imported |